LEWENS-ESSENS B & B

The house was built and finished in 1992 and the name is well-known in Yzerfontein. The owners found the lewens-essens medicine bottle on the plot and decided that there was no better way to get "Essence for one's life" than by enjoying the wonderful views and sun sets from the front stoep. The historic bottle was mounted with the name and can be seen on the front of the house.

Lewensessens B&B Yzerfontein Western Cape
Things to do:

Whale watching: From August to January you can watch the whales mating from our stoep or frolicking in the water.

Rock angling: In summer the well known Hotnots fish can be caught from the angling spots such as "Deurspring, Netjiesgooi and Grasbank" while Galjoen, a wonderfull winter fish, will be found at "Die Vleie, Freddie se Klip and Swemgat.

Surfing: Yzerfontein is well known for its lovely and safe beaches and surfers love to come here to ride the waves.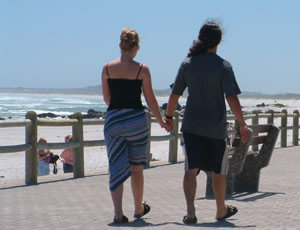 Take a scenic walk from Lewens-Essens to the Harbour

Hiking: A 16 mile stretch on the lovely white sand beach, offers one the exercise you need to get fit.

Boat trips: Can be arranged to Dassen Island.

Hiking trail: Follow the printed footsteps along the coastline and discover a unique side of www.tourismyzerfontein.co.za such as "Duiwenes, Spuitgat and the Dassies".